Updates
You're Invited to the Annual Children's Christmas Party (December 11th, 2022)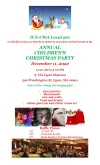 IUE-CWA Local 201
Cordially invites our Members, Retirees and 
other Invited Guests to the
ANNUAL CHILDREN'S CHRISTMAS PARTY
 
December 11, 2022
11:00 AM to 3:00 PM
@ The Lynn Museum
590 Washington St, Lynn, MA 01901
 
Santa will be visiting and bringing gifts!
THERE WILL BE:
◦    Face painters
◦    Photo booth
◦    Arts and crafts
◦    Food and drinks!
◦    Glitter glam bar and Glitter tattoo art
Raffle Prizes:
 
1st PRIZE: 70 inch TV
2nd PRIZE: Nintendo Switch
3rd PRIZE: Beats Studio3 Wireless Headphones
In-Plant Contract Prep Meetings Starting 1/17/23
Let's Get COLA Language Back in Our Contract - Flyer
Read: "GE Under Bipartisan Fire from Senators For Sending U.S. Defense Jobs Abroad"