Updates
REGARDING SAFETY AND WORKING CONDITIONS AT GE-LYNN (COVID-19)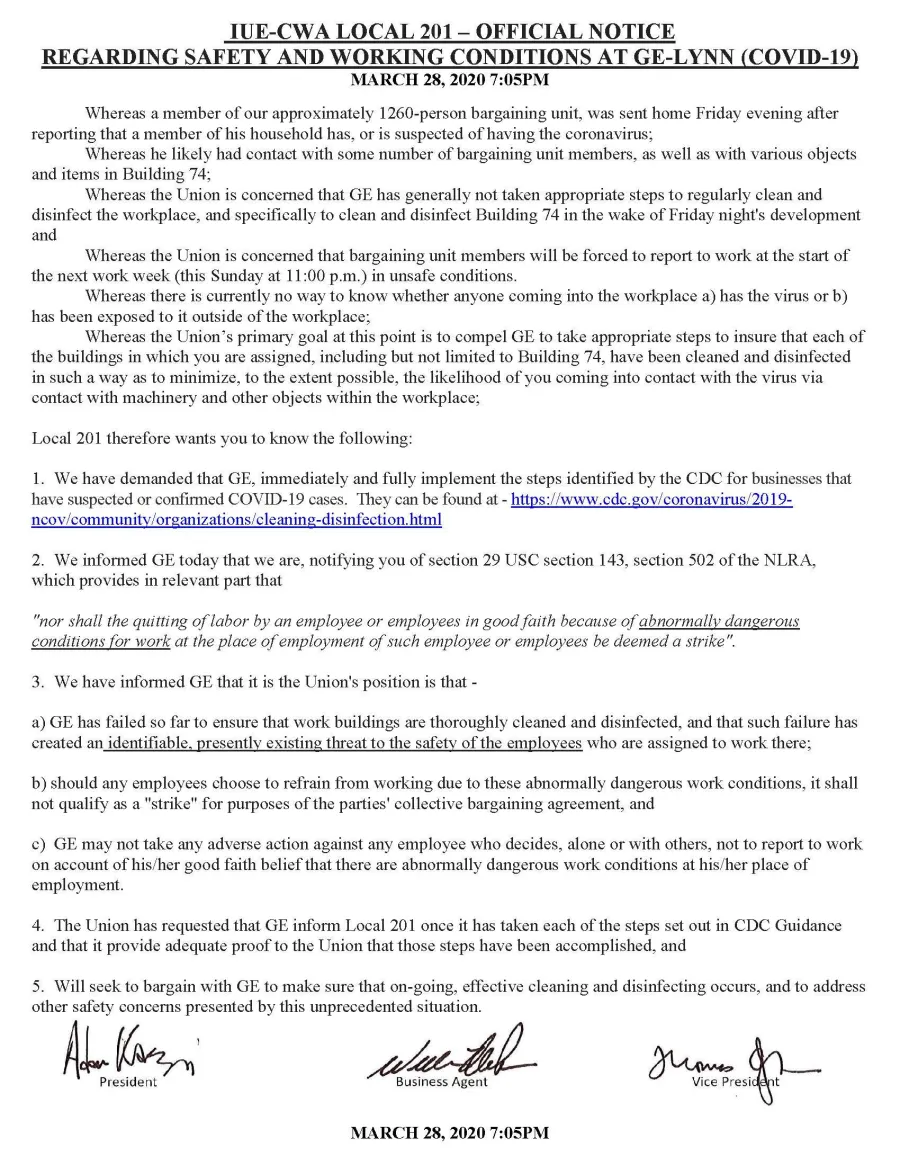 MARCH 28, 2020 7:05PM
IUE-CWA LOCAL 201 – OFFICIAL NOTICE
REGARDING SAFETY AND WORKING CONDITIONS AT GE-LYNN (COVID-19)
Whereas a member of our approximately 1260-person bargaining unit, was sent home Friday evening after reporting that a member of his household has, or is suspected of having the coronavirus; 
Whereas he likely had contact with some number of bargaining unit members, as well as with various objects and items in Building 74; 
Whereas the Union is concerned that GE has generally not taken appropriate steps to regularly clean and disinfect the workplace, and specifically to clean and disinfect Building 74 in the wake of Friday night's development and
Whereas the Union is concerned that bargaining unit members will be forced to report to work at the start of the next work week (this Sunday at 11:00 p.m.) in unsafe conditions.
Whereas there is currently no way to know whether anyone coming into the workplace a) has the virus or b) has been exposed to it outside of the workplace;
Whereas the Union's primary goal at this point is to compel GE to take appropriate steps to insure that each of the buildings in which you are assigned, including but not limited to Building 74, have been cleaned and disinfected in such a way as to minimize, to the extent possible, the likelihood of youcoming into contact with the virus via contact with machinery and other objects within the workplace;
Local 201 therefore wants you to know the following:
1.  We have demanded that GE, immediately and fully implement the steps identified by the CDC for businesses that have suspected or confirmed COVID-19 cases.  They can be found at - https://www.cdc.gov/coronavirus/2019-ncov/community/organizations/cleaning-disinfection.html
2.  We informed GE today that we are, notifying you of section 29 USC section 143, section 502 of the NLRA, which provides in relevant part that 
"nor shall the quitting of labor by an employee or employees in good faith because of abnormally dangerous conditions for work at the place of employment of such employee or employees be deemed a strike".   
3.  We have informed GE that it is the Union's position is that - 
a) GE has failed so far to ensure that work buildings are thoroughly cleaned and disinfected, and that such failure has created an identifiable, presently existing threat to the safety of the employees who are assigned to work there; 
b) should any employees choose to refrain from working due to these abnormally dangerous work conditions, it shall not qualify as a "strike" for purposes of the parties' collective bargaining agreement, and 
c)  GE may not take any adverse action against any employee who decides, alone or with others, not to report to work on account of his/her good faith belief that there are abnormally dangerous work conditions at his/her place of employment. 
4.  The Union has requested that GE inform Local 201 once it has taken each of the steps set out in CDC Guidance and that it provide adequate proof to the Union that those steps have been accomplished, and
5.  Will seek to bargain with GE to make sure that on-going, effective cleaning and disinfecting occurs,and to addressother safety concernspresented by this unprecedented situation.
Solidarity,
- Local 201 E-Board - 
Avis Budget Holiday Swap Vote - 12/14/23
Grind Agreement Ratified 🗹 - 11/21/23
Local 201 Holiday Events - You're Invited ❄❅❄