Updates
Local 201 Demands 2-week Paid Shutdown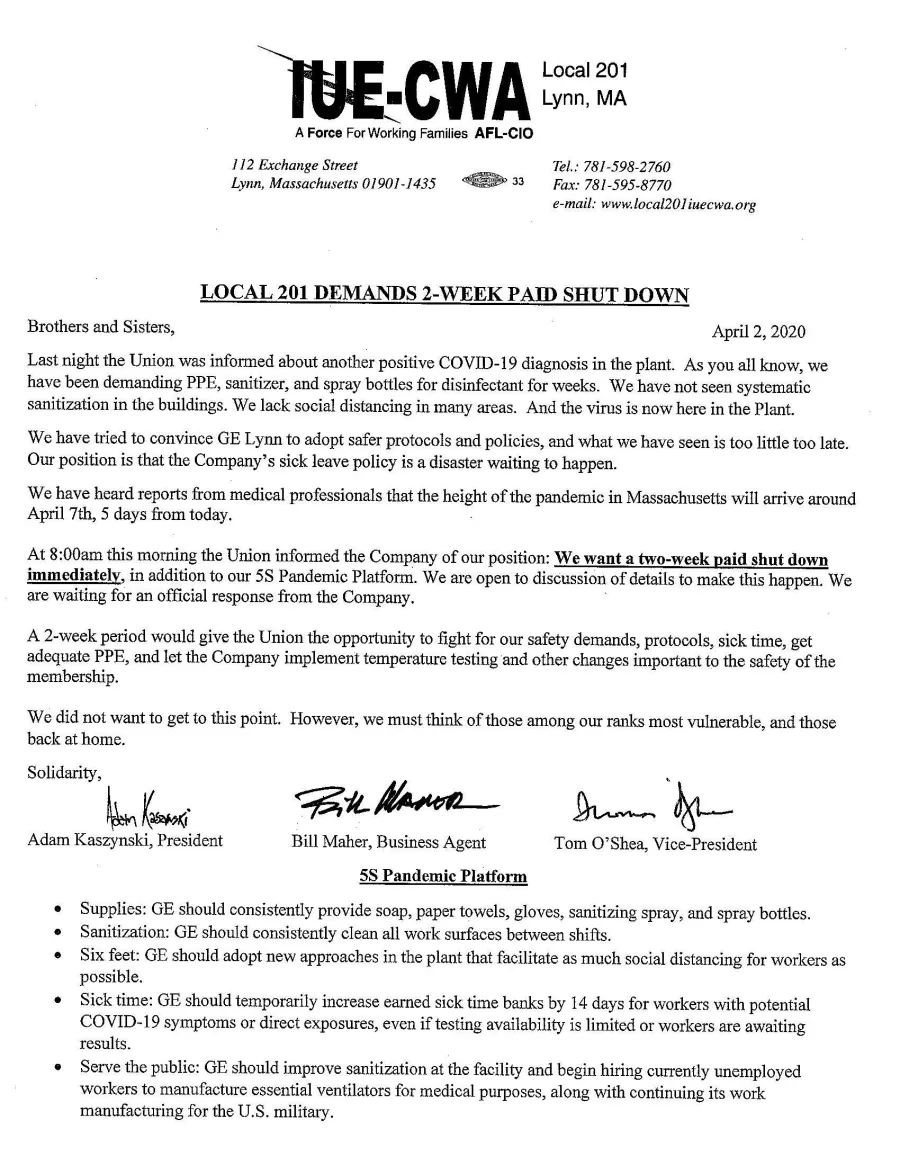 LOCAL 201 DEMANDS 2-WEEK PAID SHUT DOWN
April 2, 2020
Brothers and Sisters,                                                                                                                           
Last night the Union was informed about another positive COVID-19 diagnosis in the plant.  As you all know, we have been demanding PPE, sanitizer, and spray bottles for disinfectant for weeks.  We have not seen systematic sanitization in the buildings. We lack social distancing in many areas.  And the virus is now here in the Plant.
We have tried to convince GE Lynn to adopt safer protocols and policies, and what we have seen is too little too late.  Our position is that the Company's sick leave policy is a disaster waiting to happen.
We have heard reports from medical professionals that the height of the pandemic in Massachusetts will arrive around April 7th, 5 days from today.
At 8:00am this morning the Union informed the Company of our position: We want a two-week paid shut down immediately, in addition to our 5S Pandemic Platform. We are open to discussion of details to make this happen. We are waiting for an official response from the Company.
A 2-week period would give the Union the opportunity to fight for our safety demands, protocols, sick time, get adequate PPE, and let the Company implement temperature testing and other changes important to the safety of the membership.
We did not want to get to this point.  However, we must think of those among our ranks most vulnerable, and those back at home.
Solidarity,
 - Local 201 E-Board -
5S Pandemic Platform
Supplies: GE should consistently provide soap, paper towels, gloves, sanitizing spray, and spray bottles.
Sanitization: GE should consistently clean all work surfaces between shifts.
Six feet: GE should adopt new approaches in the plant that facilitate as much social distancing for workers as possible.
Sick time: GE should temporarily increase earned sick time banks by 14 days for workers with potential COVID-19 symptoms or direct exposures, even if testing availability is limited or workers are awaiting results.
Serve the public: GE should improve sanitization at the facility and begin hiring currently unemployed workers to manufacture essential ventilators for medical purposes, along with continuing its work manufacturing for the U.S. military.
Local 201 Holiday Events - You're Invited
Local 201 General Election Official Results
Local 201 Officer Election - 10/24/23 - View a list of candidates, polling locations, and more