Updates
Local 201 Bargaining Summary and Guide to GE-CBC Vaccine Mandate MOU and Info Meeting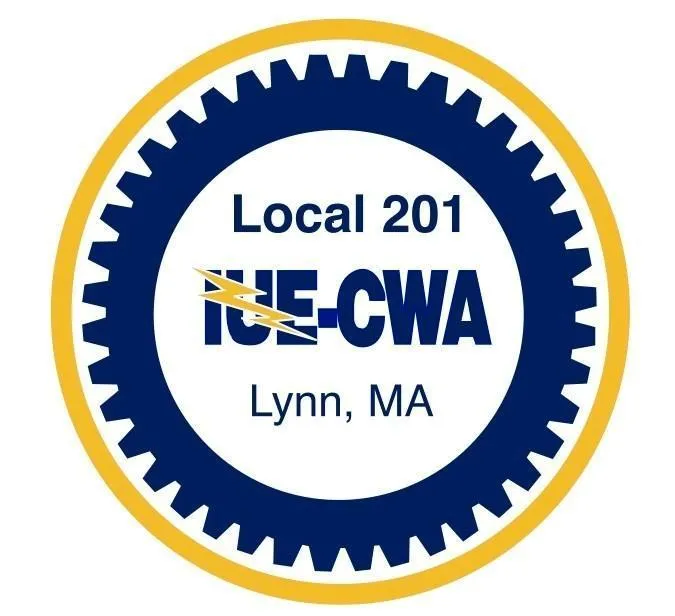 *updated 11/2/21, their was a typo on point 3, the date was meant to say December 31st not December 21st. 
Local 201 Bargaining Summary and Guide to GE-CBC Vaccine Mandate MOU

The Coordinated Bargaining Committee (CBC) of the Unions representing GE Workers (IUE-CWA, IAM, UAW, IBEW, IFPTE) and General Electric entered bargaining over President Biden's Executive Order 14042, mandating all contractors and subcontractors of the Federal Government be fully vaccinated by December 8th, 2021. Negotiations ended Friday, October 29th and the Memorandum of Understanding was posted immediately at Local201.org. This document is designed to update and educate members on the bargaining process and the impact of the mandate.


Bargaining Summary:
The CBC bargaining was done by the chair of each International Union's GE Bargaining committee and Local officers were kept outside negotiations but caucused throughout negotiations led by International Union reps.  Representing Local 201 in the IUE-CWA caucus was Business Agent Justin Richards and President Adam Kaszynski.  All the Local officers made it clear we were ready to take whatever action necessary to keep GE from running out the clock and sticking us with their first proposal - "jab or job" by December 8th and nothing more. While Local union officers would vastly prefer being in actual bargaining, these were the rules set up and agreed upon by CBC chairpersons for this bargaining session. This was a small table bargaining format.  While we found that extremely frustrating, we were guaranteed we would be at the table for national negotiations for the national contract in 2023.  That's the way it was, and about all that is worth saying about it.

The first day of bargaining on October 25th, the CBC demanded General Electric prove that GE worker's fell under the mandate as contractors per the Executive Order (EO) 14042.  Through those discussions lawyers from the Company and each International Union, along with our CBC chairs agreed that the broad reach of the mandate clearly applied to GE employees and subcontractors.  There was nothing the Unions or GE could do about that fact.  As our contract is subservient to federal mandate, the parties sat to discuss how the effects of the EO may be carried out.  GE committed to publishing publicly why we are covered by EO 14042 but pulled back.  The Company's position on how we are covered by EO 14042 will be published on Local201.org for members to review as the company presented it to the CBC. We will continue to fight for transparency through every process.

If the CBC had not forced the Company to come to the table and bargain, you can be certain the Company would have forced their goal down our throats with no extensions, pathways to retirement, or ability to change your mind on getting vaccinated and get on the recall list to get your job back after 90 days. None of the terms of this agreement other than "jab or job" would be in effect.



For now, here what is important to remember and act on:

1)  The vaccine mandate applies to us:All members who are willing to be voluntarily vaccinated from COVID-19 should do so immediately.  The Company says you must tell them your vaccine status by November 24th. It is a tight timeline with your opportunity to get the Moderna vaccine (first shot by October 27th) already past due to the gross negligence and disrespect shown by the Company in their last-minute notification.  You have until November 3rd to get the first dose of Pfizer and November 24th to get the 2nd dose of Pfizer.  OR you have until Nov. 24th to get the first and only dose of the Johnson and Johnson vaccine to avoid using unpaid time.


2. If you feel you need more time to get vaccinated than what is spelled out in (1), it is still a short window which will require you to use unpaid time off.  You may use any remaining vacation or personal time, but if you do not have enough paid time, unpaid time off will be approved in the following manner: For those employees who receive a first shot by November 19, 2021, thereby demonstrating a good faith intention to become fully vaccinated, and thereafter such employees receive their second shot no later than December 17, 2021, such employees will be granted unpaid leave from December 8, 2021, until the date they become fully vaccinated, provided however that the unpaid leave of absence shall extend no later than December 31, 2021 – after which, if still not fully vaccinated you will be involuntarily separated from GE employment. If you elect this delayed unpaid option you must have your Johnson and Johnson Vaccine by December 8th or your first Pfizer or Moderna Vaccine by November 19th and your second Pfizer or Moderna Vaccine by December 17th.

GE put out the following information on electing this route: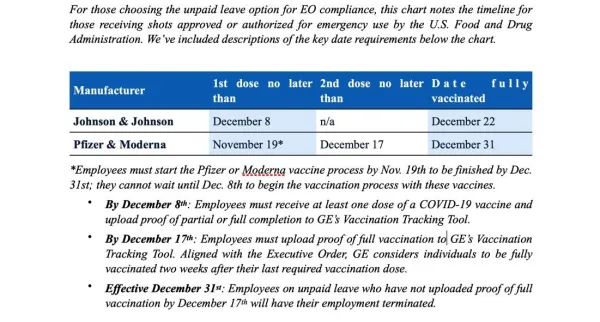 3. 
60+ Retirement Option:
Employees not interested in complying with the vaccine mandate and who are eligible to retire January 1, 2022, must submit their PEN-1 form no later than November 19, 2021. Such employees may use unpaid time off from December 9, 2021, until December 31, 2021, or use any remaining paid time off. They will be paid for the Christmas holiday.  For those hired prior to June 18th, 2007, your 2022 vacation allotment will be paid out in full. 


4. Exemption to COVID-19 Vaccine for Medical and Religious Reasons: If you have religious or medical reasons to request exemption: from the vaccine mandate, the deadline to submit a request for a medical or religious exemption/accommodation is extended up to and including November 5, 2021. We are told members that are approved for this route will be required to wear a mask and social distance 6 feet.


5. Employees not interested in complying with the vaccine mandate and who are NOT eligible to retire January 1, 2022, will be eligible for the Executive Order Re-employment Program (EOR Program) if:

a. The employee resigned or was involuntarily separated due to their decision not to comply with the Executive Order 14042 on December 8, 2021, and,

b. Is seeking re-employment with the Company in the same location from which they separated, and

c. Has notified the Company of their fully vaccinated status and desire to be re-employed at the site prior to March 1, 2022.
 These individuals would maintain eligibility for the EOR Program benefits for as long as they are qualified to remain on their site's recall list. Upon re-employment, the individual will have
his/her service immediately restored, minus the time that they were separated. The individual will be hired into the rate structure from which they were involuntarily separated (example: a former legacy rated employee who was separated for not being compliant to the vaccine mandate, will be allowed to return to the legacy pay structure.) Those EOR Program employees who elect to be paid their 2022 vacation accruals upon involuntary separation, will be ineligible for vacation days in the year that they return.  (March 1 is the cutoff, meaning you must be fully vaccinated and have notified the company prior to March 1. It is important to keep in mind you are not fully vaccinated according to CDC guidelines until 2 weeks after your last or final dose. Johnson and Johnson, the single shot, is 14 days after you receive the vaccine, Moderna takes 43 days after the initial shot to be considered fully vaccinated, Pfizer takes 35 days after the initial shot to be considered fully vaccinated.


6. Paid time for Vaccination or Sickness: The Company will continue to provide 4 hours pay for time to get vaccinated for each shot. This provision includes employees on all shifts. The Company will continue to provide 8 hours pay for all employees who experience ill-effects after receiving a vaccination shot. The Company will continue to provide up to 10 days paid time if an employee tests positive for COVID-19.


7. Vaccines on site: The Company will continue to provide vaccination clinics as it deems appropriate.  The Union was told Johnson and Johnson vaccine will be available in the Lynn Riverworks plant on November 17th and the Moderna Vaccine on November 22nd but that may be subject to change due to GE's overall incompetence so plan accordingly.  The Union does not recommend waiting for ANY medical procedures. This weak language may allow them to disrupt your vaccination plans.

 
8. If the mandate is withdrawn or changed: The CBC and GE have agreed that if Executive Order 14042 is rescinded or amended, the parties will meet and bargain the effects of the rescission or amendments to the Executive Order.


9. Outside contractors and vendors: GE has committed on the record they have let ALL subcontractors in the plant know they must follow the same mandate.  How they plan to enforce that sounded like a bunch of hands off BS.  If you suspect that an outside contractor is being treated differently than us, we suggest you report any subcontractor noncompliance of GE vendors to the Union, GE, and the proper regulatory authorities.

The exact language of the MOU is posted at Local 201.org. This is a locally produced guide to help guide you during this tight timeline.

In solidarity,


Adam Kaszynski, President Local 201        Justin Richards, Business Agent Local 201


Vaccine Mandate EO Effects Special Membership Meeting

We will be holding a meeting November 1st  online over the Zoom video conference platform at 12:30 and 3:30pm. It is easy to join the meeting via smartphone, tablet, computer, or landline. For the best experience, download the Zoom app on your smart device or computer.

Via Zoom app (best option):

https://us02web.zoom.us/j/88671505750

OR

Listen in (not recommended, harder to participate)

Dial in: 1 929 205 6099
Meeting ID: 886 7150 5750

Dial *9 to raise hand 
Dial *6 to mute and unmute

You must identify yourself to verify membership and stay in the meeting.
Local 201 Holiday Events - You're Invited
Local 201 General Election Official Results
Local 201 Officer Election - 10/24/23 - View a list of candidates, polling locations, and more