Updates
"GE Sets the Bar at Bare Minimum"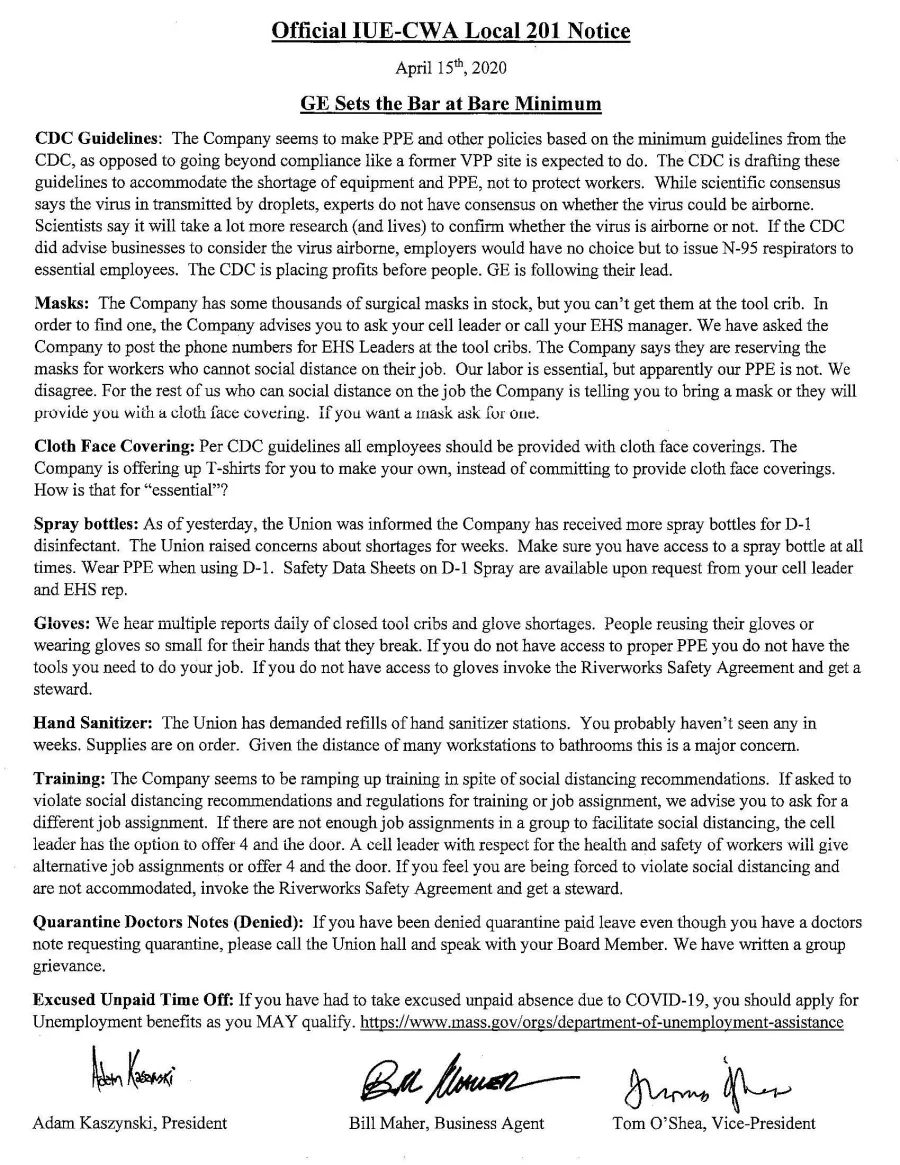 Official IUE-CWA Local 201 Notice
April 15th, 2020
GE Sets the Bar at Bare Minimum
CDC Guidelines:  The Company seems to make PPE and other policies based on the minimum guidelines from the CDC, as opposed to going beyond compliance like a former VPP site is expected to do.  The CDC is drafting these guidelines to accommodate the shortage of equipment and PPE, not to protect workers.  While scientific consensus says the virus in transmitted by droplets, experts do not have consensus on whether the virus could be airborne.  Scientists say it will take a lot more research (and lives) to confirm whether the virus is airborne or not.  If the CDC did advise businesses to consider the virus airborne, employers would have no choice but to issue N-95 respirators to essential employees.  The CDC is placing profits before people. GE is following their lead.
Masks:  The Company has some thousands of surgical masks in stock, but you can't get them at the tool crib.  In order to find one, the Company advises you to ask your cell leader or call your EHS manager. We have asked the Company to post the phone numbers for EHS Leaders at the tool cribs. The Company says they are reserving the masks for workers who cannot social distance on their job.  Our labor is essential, but apparently our PPE is not. We disagree. For the rest of us who can social distance on the job the Company is telling you to bring a mask or they will provide you with a cloth face covering.  If you want a mask ask for one.
Cloth Face Covering: Per CDC guidelines all employees should be provided with cloth face coverings. The Company is offering up T-shirts for you to make your own, instead of committing to provide cloth face coverings. How is that for "essential"?
Spray bottles: As of yesterday, the Union was informed the Company has received more spray bottles for D-1 disinfectant.  The Union raised concerns about shortages for weeks.  Make sure you have access to a spray bottle at all times. Wear PPE when using D-1.  Safety Data Sheets on D-1 Spray are available upon request from your cell leader and EHS rep.
Gloves: We hear multiple reports daily of closed tool cribs and glove shortages.  People reusing their gloves or wearing gloves so small for their hands that they break. If you do not have access to proper PPE you do not have the tools you need to do your job.  If you do not have access to gloves invoke the Riverworks Safety Agreement and get a steward.
Hand Sanitizer:  The Union has demanded refills of hand sanitizer stations.  You probably haven't seen any in weeks. Supplies are on order.  Given the distance of many workstations to bathrooms this is a major concern.
Training: The Company seems to be ramping up training in spite of social distancing recommendations.  If asked to violate social distancing recommendations and regulations for training or job assignment, we advise you to ask for a different job assignment.  If there are not enough job assignments in a group to facilitate social distancing, the cell leader has the option to offer 4 and the door. A cell leader with respect for the health and safety of workers will give alternative job assignments or offer 4 and the door. If you feel you are being forced to violate social distancing and are not accommodated, invoke the Riverworks Safety Agreement and get a steward.
Quarantine Doctors Notes (Denied):  If you have been denied quarantine paid leave even though you have a doctors note requesting quarantine, please call the Union hall and speak with your Board Member. We have written a group grievance.
Excused Unpaid Time Off: If you have had to take excused unpaid absence due to COVID-19, you should apply for Unemployment benefits as you MAY qualify. https://www.mass.gov/orgs/department-of-unemployment-assistance
 - Local 201 E-Board -
Local 201 Holiday Events - You're Invited
Local 201 General Election Official Results
Local 201 Officer Election - 10/24/23 - View a list of candidates, polling locations, and more