Local 201 co-founded the E-Team Machinist Training Program at Lynn Technical High School. Go to eteamhome.net to learn more and apply! T
his free, union-run program teaches all the basic skills needed to be a machinist.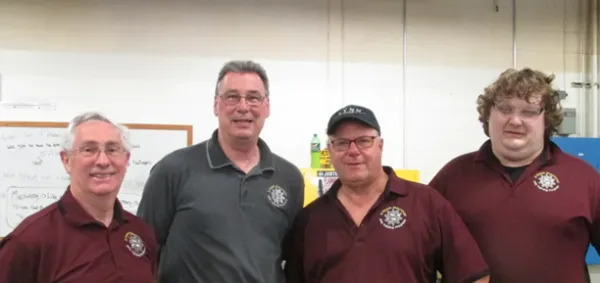 E-Team instructors.
---
Local 201 has NO affiliation with the following programs or opportunities:
Interested in a construction career, but don't know how to get started? The Building Pathways Building Trades Pre-Apprenticeship Program can help you learn about the industry, practice your hands-on skills, and compete for union apprenticeship program openings.
Next cycle scheduled for February 26, 2024 – April 12, 2024, and will meet from Monday to Friday from 7:00 AM – 3:30 PM.
---
Essex Technical High School - Nighthawks Program
Program Session Dates: January 9 - May 16, 2024
Class schedule is Tuesdays, Wednesdays and Thursdays from 4-8 PM 
Classes are 3 nights per week (2 nights in person and 1 night remote) from 4-8 pm. Attendance is required at all classes:
Tuesday - At Essex Tech in Mechanical Assembly Lab
Wednesday - Zoom Class (from home)
Thursday - At Essex Tech in Mechanical Assembly Lab
---
Northshore Community College - Machinist Training Program
---
Carpenters (Statewide)
North Atlantic States Carpenters Training Fund holds in person Information Sessions on the first Monday of each month at 6 pm sharp. Information sessions are currently in person only. See dates and locations here: https://www.nasctf.org/
---
Electricians IBEW Local 99 JATC (Seekonk, Attleboro, and North Attleboro, MA and Rhode Island)
Applications continue to be available for pickup Monday thru Friday from 8 am to 4:30 pm at 40 Western Industrial Drive, Cranston, RI 02921. Local 99 is still in-person at this time. Individuals with questions may contact Michael Petit at mpetit@ibew99.org or Office at 401-946-9908. Application info and forms can be found here: https://ibew99.org/

apprentice

-applications
---
MA Laborers' Apprentice Application Dates
Qualified Individuals should fill out applications at the Local Union nearest to their residence between 9:00AM and 12:00PM
On these scheduled dates:
September 12, 2023
December 12, 2023
Must be 18 Years old & Physically able to do the work of the trade.

Must submit to drug testing.

Must have a high school diploma or GED equivalent.

Must have a Driver's License.

Must have reliable transportation.
---
Millwrights Local 1121
Millwrights Local 1121 is accepting applications on a rolling basis. You can apply online at https://www.easternmillwrights.com.
Looking for additional information on the Millwrights apprenticeship program and process? You can contact Andy Bendetto, in addition to applying online, at abenedetto@easternmillwrights.com.
Painters DC 35 Construction Industry Painters, Wallcoverers, Glaziers, and Drywall Finishers Residential Painters Glassworkers Sign Painters and Sign Erectors
The International Union of Painters and Allied Trades DC 35 are accepting applications for the apprenticeship program. We open applications the 1st business day of each month for 10 months out of the year from January – October. Applications are open from  
10 am – 4 pm and are accepted each day of the month thereafter until we reach our quota of 25 applications per month. The application must be filled out online at https://fti.unionlogic.net/fti-ne/ and hand delivered to the Boston office in person. For more info please go to www.iupatdc35.org or contact Eric Redding, 617-524-0248, redding@ftine.edu 
---
Plasters & Cement Masons Local 534
Plasterers & Cement Masons Local 534 
Apprentice

 Applications are accepted year round. Download from our website. (boston local 534.org). Click on UPDATES-----Local 534 is now accepting new 

apprentice

 applications----Download application, email towredmond534@gmail.com.
Contact info: William Redmond. (617) 901-5550
---
Plumbers & Pipefitters Local 4 (Central MA)
Plumbers and Pipefitters Local 4 accepts applications the first Tuesday of each month from 9 AM. to 3 PM in person only at 150 Hartwell St, West Boylston, MA 01583. There is a non-refundable $25 administrative fee to apply. Local 4 only accepts bank checks or money orders. Local 4 also administers a no-fail math assessment at that time. Contact Wendy Parsons with questions, Wendy@UALocal4.com or 508-835-1150, x10
---
Roofers Local 33
Roofers Local 33 is accepting applications on a rolling basis. Contact Will Hernandez for more information (781) 341-9197, willie@rul33.com.
---
Sheet Metal Workers Local 63 (Western MA)
Sheet Metal Workers Local 63 accepts applications on a rolling basis. The application is posted on their website, under "training"
---
Sprinkler Fitters Local Union 550
Sprinkler Fitters Local 550 will be accepting applications in April 2023.
Applications for the Sprinkler Fitters will be accepted at the Sprinkler Fitters Local 550 Union Hall, 46 Rockland Street, West Roxbury MA. 02132 during the day and the Apprenticeship Education Center at 195 Libbey Industrial Parkway, Unit 2 Weymouth, MA 02189 will be accepting applications early evenings.
Please visit their website for specific dates and times.